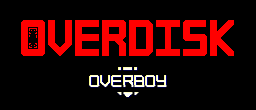 OVERDISK 💿


Made In 3 days by Overboy for the Devolver Digital Game Jam.
THROW THE DISKS IN THE PORTAL TO GAIN XP AND UPGRADES
WASD/ZQSD : Movement
Left Click : Shoot with current weapon
Right Click or MAJ : Roll
E/Mouse wheel Button : Change weapon (you need to unlock weapons)
Space : Shockwave (ability to unlock)
LEVEL UNLOCKS
LEVEL 10 : Pistol Weapon
LEVEL 20 : Dodge bullets thank to your dash (replace roll)
LEVEL 30 : Shotgun Weapon
LEVEL 40 : Shockwave ability, press SPACE to create a shockwave that push disks
LEVEL 50 : Uzi Weapon
LEVEL ??? : ???
I had a blast developing this little game.
You must ask permission if you want to upload this game on your own website.
contact : overboy.games@gmail.com
I'm also available for freelance work More info here